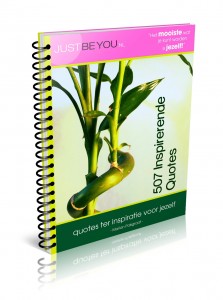 Ontdek Hoe Ook Jij Gemotiveerd En Geïnspireerd Kunt Worden. 
Ontdek de 507 quotes die mij al jaren inspireren om meer zelfvertrouwen te krijgen, gelukkig te zijn en mijn doelen te behalen.
507 Inspirerende Quotes voor meer inspiratie en vertrouwen, is een pdf document met daarin alle quotes die mij als persoon, moeder en ondernemer dagelijks inspireren en motiveren om het maximale uit mijn leven te halen.
Ben je niet blij met jezelf? Maak jij je druk wat anderen over jou denken?
Heb je het gevoel dat je regelmatig tekort schiet voor jezelf of anderen?
De manier waarop je over jezelf, anderen en het leven in het algemeen denkt bepaalt in grote mate de ervaringen die je in het leven hebt!
Klik hier om direct toegang te krijgen
Geef nooit uitleg. Je vrienden begrijpen je wel en
je vijanden geloven je toch niet. – E. Hubbard
Als je denkt dat je te klein bent om invloed te hebben,
dan heb je waarschijnlijk nog nooit de nacht doorgebracht
met een mug op je kamer. – onbekend.
De grote kracht van zelfrespect is dat het ons bevrijdt van de
verwachtingen van anderen. – Joan Didion.
Lees deze inspirerende, positieve uitspraken en motiverende quotes om je te stimuleren, te motiveren en je vertrouwen te laten groeien. Vele, door de loop der tijd, verzamelde uitspraken van verschillende personen, kunnen je in het dagelijkse leven verder helpen. Vooral als je het zelf even niet meer weet.
Wil jij de 507 inspirerende quotes ontvangen?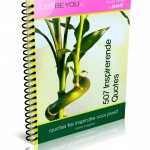 Ontvang hier je digitale versie van "507 inspirerende quotes".
Ik weet zeker dat de inhoud van dit e-book, je net zo zal inspireren als het bij mij heeft gedaan.
Klik hier om direct toegang te krijgen tot dit product >>>>
Quotes hebben een inspirerende werking
Ik merk echt elke keer als ik een quote hoor , dat quotes een inspirerende en motiverende werking hebben op mensen. Door de juiste quote op het juiste moment te horen, kan ik een compleet andere weg in slaan en het werkt heel motiverend. Ik ga dan nog sneller op mijn doel af.
Quotes verzamelen
Je zult vaak zien dat je een goede quote hoort maar dat je deze achteraf niet meer weet of dat je door vele mooie quotes ook weer een aantal vergeet toe te passen of met anderen te delen. Ik heb daarom veel van de belangrijkste quotes die ik ooit hoorde verzameld in een pdf document en dat is nu mijn e-book "129 Inspirerende Quotes". Je mag dit gratis downloaden, je kunt dat doen via bovenstaand formulier, ik breng je nergens kosten voor in rekening.
Tip: Schrijf de meest inpirerende quotes op en plak dit op een mooie plek zodat je elke dag geinspireerd wordt.
Succes!
Ps Heb je mijn GRATIS e-book 129 inspirerende quotes al gezien?
Waar ben jij dankbaar voor?
Ontvang het dankbaarheid dagboek
Richt je aandacht op waar je dankbaar voor bent. Waar je je op richt dat groeit. Je zult zien dat je meer dingen in je leven zult ontvangen om dankbaar voor te zijn! Dankbaarheid is een krachtig proces om je energie te verhogen en om te zorgen voor meer van wat je echt wilt in je leven.